All About Answers
Research for You
As you develop and refine products and services, you need a research partner who can help determine customer needs, prioritize features, optimize SKUs and price points, and address questions spurred by new initiatives.  Answers Research works side by side with our clients to tackle just such development and marketing challenges.
We have created a company that is collaborative and responsive, passionate about research, and focused on impacting business decisions.  To this end, we have developed a philosophy built on two pillars: senior people who inspire trust and passionate people who deliver excellence.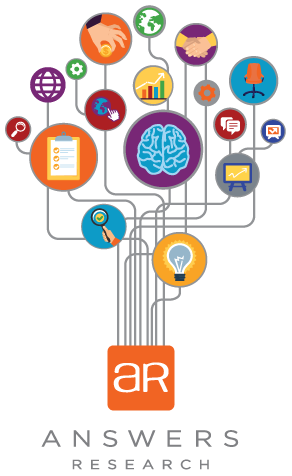 Single, senior point of contact.  Great work is built on relationships and relationships are built on trust.  To help establish trust, we provide a single, experienced researcher on every study.  This responsive senior manager will lead an analytical and data sciences team who apply deep market research experience and a rich understanding of your industry.
Professional passion. Our team is passionate about the practice and science of market research.  Each team is deeply engaged with your business and research objective. You will see this engagement in creative research designs and thoughtful approaches to your research challenges.
Customized to Meet Your Needs
Types of Studies
Awareness & Perceptions
Concept Value
Customer Satisfaction/Loyalty
Habits & Practices (Customer Needs)
Messaging & Positioning
Naming
Pricing & Bundling
Segmentation
Advanced Design & Analytics
Conjoint
Advanced Choice Modeling (ACBC)
Custom Choice Modeling (Menu Based)
Anchored/Standard Max-Diff
Hierarchical Bayesian Segmentation
T.U.R.F
Structural Equation Modeling
Why n=400?
Learn more about why the right sample size is important to you